Preventing a Legal Hold Wildfire: A Guide
Wednesday, April 8, 2015 by Eric Robinson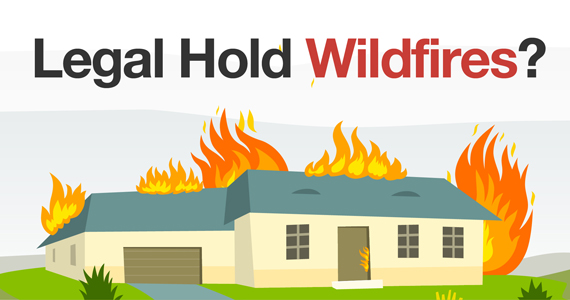 Fire is fast and can rage out of control in a matter of moments. Before you know it, everything around you is engulfed in flames. That's why fire prevention strategies are so important. Nothing is more important than knowing how to recognize the dangers and what to do in the event of a fire emergency.
The same goes for document preservation in litigation and regulatory matters. These are most often reactive events. Once the embers are lit, the process and resultant document preservation can spiral out of control in the blink of an eye.
Don't Get Burned in Litigation or Regulatory Matters
In a 2014 survey (Preservation Costs Survey - Final Report by William Hubbard), 100% of respondents reported issuing legal hold notices. However, out of that group, only 63% reported tracking those legal holds. With legal and technical revolutions taking place in the discovery landscape—much like a fire prevention or disaster recovery plan—organizations need to have an effective legal hold plan and process in place. Such a plan should consider established case law, civil procedure rules and industry best practices, and organizations should leverage legal hold resources to help them along the way.
Legal Hold: Case Law, Rules and Tips
Recent court decisions and procedural rule amendments reiterate the importance of the duty to preserve electronically stored information. The pending changes to the Federal Rules of Civil Procedure (FRCP) notwithstanding, sanctions may be imposed on parties for failing to effectuate a proper legal hold, resulting in loss of relevant information. In some instances, this may even lead to a default judgment. Recognizing your duty to preserve, when it begins, what it entails and when it ends are key strategies that can save your organization time, money and stress and essential to any information governance or ediscovery strategy.
Don't get burned by unknown or neglected preservation duties, ineffective legal holds or faulty deletion strategies. By following current case law, procedural rules and best practices, you may prevent the legal hold wildfire. But in the world of information overload, how do you find these tools?
A Legal Hold Guide by Kroll Ontrack
Kroll Ontrack has developed a legal hold preparedness guide to give you the tools you need. From tips and case law to the anticipated FRCP amendments, this guide will help your organization establish or validate your legal hold processes and procedures. Additionally, Kroll Ontrack's Consulting Group is available at any point to assist.
After all, preparedness is essential, and only you can prevent preservation and legal hold wildfires. Explore Kroll Ontrack's Legal Hold Guide today.