Crossing Borders: Where Discovery and Privacy Collide
Wednesday, November 9, 2016 by Thought Leadership Team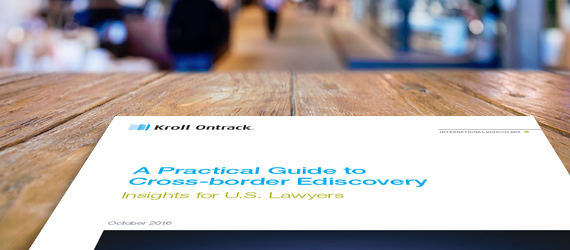 Litigation teams face new challenges when an ediscovery project crosses borders – from multilingual data and unique cultural norms to unfamiliar laws, regulations and data privacy practices. In addition, the international data protection landscape is changing and U.S. businesses with global operations need to be prepared. Companies need to think carefully about the risks of transferring data across borders.
To help practitioners navigate these challenges, Kroll Ontrack synthesized information on more than seventeen countries to create a succinct, new guidebook, A Practical Guide to Cross-Border Ediscovery: Insights for U.S. Lawyers.
This guide includes practical insights into how organizations all over the world are managing a wide range of business challenges using ediscovery technology, including:
Case studies on cross-border litigation and FCPA investigations;
An "At a Glance" visual map that shows the legal system, applicable rules and ediscovery practices for key countries in the Americas, EMEA and APAC regions;
Short summaries from experts on the ediscovery landscape in key countries; and
A timeline of EU Data Privacy and Protection milestones.
Litigation, compliance demands and investigations are part of the regular course of business for U.S. lawyers. With global considerations and cross-border implications, law firms and companies now rely on mobile ediscovery technologies, in-country data centers and local expertise to empower the processing and transferring of data in a compliant and cost-effective manner. This guide is just one way that Kroll Ontrack is here to help attorneys and their counsel thrive and adapt in a changing ediscovery world. Read the new cross-border guide today.