Antitrust Video Series: Part 1
Thursday, June 2, 2016 by Thought Leadership Team
Navigating the Seas of Global Antitrust and the Expanding Internet Frontier
Every year, the leading practitioners in antitrust law congregate in Washington, DC for more than just the cherry blossoms: they gather for the Annual Spring Meeting of the ABA Section of Antitrust Law. This year, the Spring Meeting focused on global antitrust law, highlighting that now, more than ever before, the legal antitrust professional needs to contend with the global market.
Not everyone is lucky enough to attend the Spring Meeting, so at this year's meeting Kroll Ontrack was honored to partner with The Capitol Forum to bring you a glimpse of the exciting new topics that were discussed. Nationally renowned experts on antitrust law shared their insights and opinions with us over a dozen short, exclusive antitrust videos, which are available here for you. Part One of our video series focuses on antitrust issues involving either international jurisdictions or Internet companies, with each video each highlighting a unique facet of the current antitrust environment. Each video is organized with a short description to make is easier for you to decide which of these compelling videos to view first.
Internet Markets are Different
The unique follower devotion, the speed of buildup and the customer base consisting of both users and advertisers are just a few ways that Internet markets are different and are proving to be a challenge for regulatory schemes both in the United States and abroad.
Watch: Internet Monopolies featuring Scott Sher, a partner at Wilson Sonsini Goodrich & Rosati, as he discusses the unique antitrust issues facing Internet platform monopolies.
Diversity in Regulatory Regimes Brings Improvement Along with Headaches
The United States is no longer the only major jurisdiction with antitrust filing, and this has resulted in increased time and expense. Is there a unified system of regulatory filings on the horizon, and if so, should there be?
Watch: Global Antitrust Regimes featuring Professor William Kovacic of George Washington University, as he discusses the global establishment of antitrust regimes around the world, the complications and possible solutions to remedy these problems.
Antitrust Law Continues to Build on What Came Before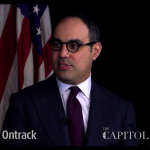 Antitrust law originated to prevent railroad companies from exploiting the market. Today, antitrust law is struggling to grapple with the challenges presented by Internet companies.
Watch: Mechanisms of Antitrust Law featuring Jonathan Kanter, a partner at Cadwalader, Wickersham & Taft, as he discusses the history and mechanisms of antitrust law and its emergence as a public issue.
Be sure to keep watch for next month's arrival of Part Two of our video series, which will feature the remaining videos and focus exclusively on antitrust issues currently at play in the United States.