Technology Assisted Review: Ask and You Shall Receive
Wednesday, December 12, 2012 by Thought Leadership Team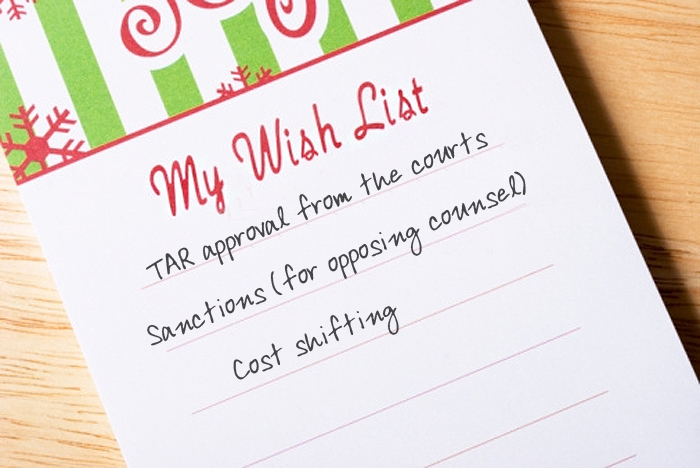 Whether it's a tablet or a smartphone, the latest and greatest technologies are the hottest items on everyone's 2012 wish list. Like the modern consumer, tech-savvy litigants have long been deliberating the best opportunity to leverage technology-assisted review, or TAR, and other advanced searching technologies with predictive algorithms. Since Da Silva Moore v. Publicis Groupe condoned the use of this technology, practitioners are starting to leverage it.
On the whole, advancing technology and growing data volumes had a profound effect on the ediscovery issues that courts discussed in 2012.
The judiciary devoted significant attention to discovery protocols in 2012.
The increased level of procedural scrutiny was best on display in Da Silva Moore. Specifically, U.S. Magistrate Judge Andrew Peck and U.S. District Court Judge Andrew Carter noted that their primary concern was the defensibility of the method implemented, rather than the "black box" behind the technology. Peck closed by emphasizing that "counsel must design an appropriate process," leveraging available technologies and appropriate quality control testing.
Many sanctions in 2012 stemmed from counsel trying to keep pace with the "big data" era.
The total number of cases addressing sanctions dropped approximately 10 percent in 2012, but it was still the most discussed topic. For example, in Coquina Invs. v. Rothstein, over 200 defense attorneys collecting, reviewing and producing ESI constituted "a case of too many cooks spoiling the broth" amounting to insufficient production, a finding of gross negligence, and sanctions in the form of attorney's fees and costs. Coquina and similar cases, should serve as cautionary tales displaying the importance of understanding a client's data before attempting to preserve or collect it.
Courts were all over the map regarding appropriate ediscovery preservation standards in "big data".
In Chin v. Port Auth. of New York & New Jersey, for example, the court diverged from the Zubulake standard, finding that counsel's failure to institute a litigation hold did not constitute negligence per se. Instead, the court in Chin favored a case-by-case, factor-based approach to determine whether spoliation occurred. However, many opinions stuck with the Zubulake standard, such as Voom Holdings LLC v. Echostar Satellite LLC, in which the court found the defendant's failure to issue a litigation hold to suspend deletion of e-mails constituted gross negligence and warranted severe sanctions. As data volumes continue to proliferate, expect courts to evolve their litigation hold procedures for years to come.
So what's up next for ediscovery? Will technology-assisted review go mainstream? Will "big data" continue to cause big headaches for practitioners? Find out tomorrow as we conclude our three-part series with a look toward 2013's hottest topics.