Leave no digital stone unturned.
Computer forensics is in our DNA. We know what data to look for, how to find it and how to present our findings in a manner that is accepted by courts around the world. Equipped with state-of-the-art tools and attuned to the latest technical and legal developments, our experts will roll up their sleeves on your next matter.
Investigating data? Uncover. Dispel. Illuminate.
Choosing the right computer forensics expert could mean the difference between winning and losing a case.
KLDiscovery forensics experts have handled some of the toughest and most complex collections and electronic data investigations. Our team includes specialists who use court-tested methodologies, follow a strict chain-of-custody process and help ensure evidence is admissible in court.
Download Info Sheet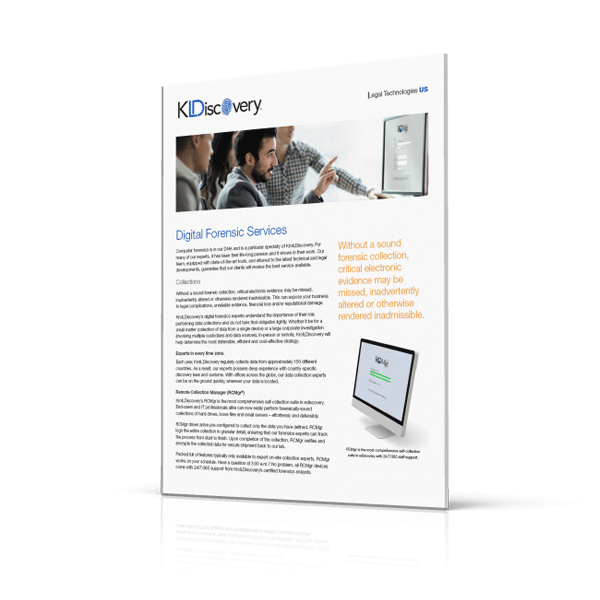 Uncovering and examining the evidence. What can we search for?

Recovery
Deleted file recovery
Password cracking
Webmail recovery

Examination
Search & browse history
Last accessed dates
Cross-validation

Analysis
Evidence cloud-based storage
Evidence wiping
Windows registry analysis
Scenarios where our computer forensics experts make a difference.
Commercial disputes
IP or data theft cases
Employment disputes
External breaches or intrusion
Computer misuse
Harassment or bullying
Fraud
Criminal investigations
---
Use a KLDiscovery computer forensics expert for your next matter.